When you are a day or a weekend in Milan you definitely have to eat at least one gelato, or ice cream. In this article we list what we consider the best gelateria in Milan. Especially when you've done a bike tour through Milan with us, you deserve one!
The best gelateria in the centre of Milan: Ciacco
The ice cream shop Ciacco is just a stone's throw away from Piazza the Duomo. It is situated in Via Spadari, the street that is known for the famous store Peck, a historic gastronomical heaven. By the way, Peck is worth a visit, even more when you do love good food or like to bring back home a great bottle of wine. However, consider that the prices at Peck are in the higher range.
Ok, back to Ciacco. We consider this the best ice cream shop in the centre of Milan. The flavors that Ciacco offers are delicious and very original. As are the names. Order for example a cone with Principe Bugré (salted caramel) or a Quasi Cheesecake (quasi=almost). Stefano, the founder and ice cream maker is (one of) the first that created a seasoned ice cream (gelato barricato): ice cream that stayed in wooden barrels (the ones they use in the wine making process) for some time. Maybe this all makes sense when we tell you that the gelataio Stefano studied chemistry….
The different flavors are all made with high-quality ingredients and without additives. And more good news: they always have a wide-range of flavors that are made without lactose or products that derive from animals. So this is also the place to be when you are intolerant for lactose or when you follow a vegan diet.
Ciacco, gelato senz'altro
Via Spadari 13
https://www.ciaccolab.it/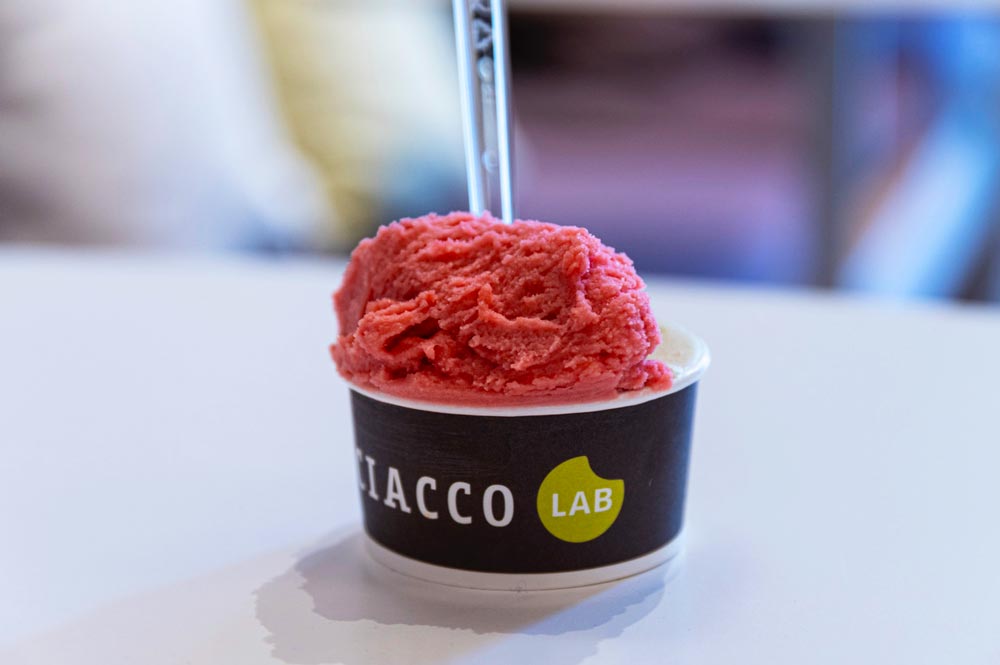 Artico, delicious ice cream in the Brera district
Artico is slowly becoming an institute in Milan. They've opened their first store in Isola, the district that also hosts the Artico Academy. A few years later they opened a second store in Via Dogana (we cross this street during our bike tours through Milan), only one minute away from the Piazza del Duomo. The store in Brera has opened in Spring 2021.
You can choose here between different varieties of chocolate-flavored ice cream as for example dark chocolate, bacio (milk chocolate with hazelnuts), salted chocolate, and so on. These flavors go well in combination with pistacchio di Bronte, salted caramel or almond. However, if you prefer fruit flavored ice cream, then be prepared to have more 'heavy' choices like red fruits or mango. Are you in difficulty choosing? Then just ask to try a teaspoon of one or two of the flavors. It might help you to make a decision.
Artico Gelateria – Brera
Via Brera 29
https://www.gruppoartico.com/le-gelaterie/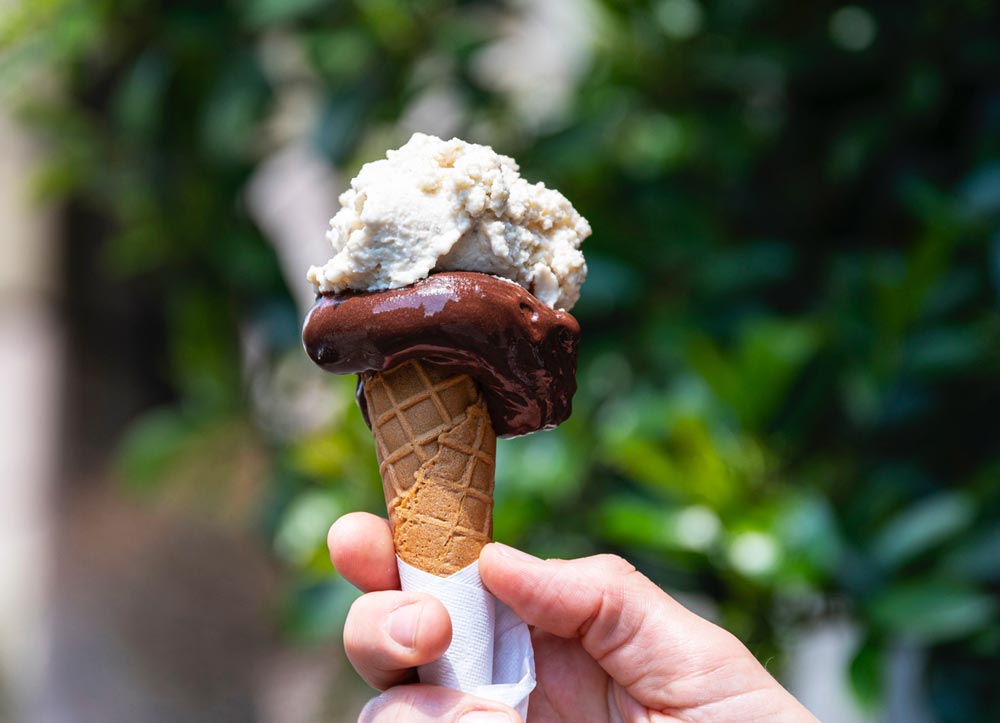 Toldo, ice cream with a view (on Bosco Verticale)
Toldo is the oldest ice cream shop in this list of five best gelaterie in Milan. They have two stores, the first one opened in the fifties of the last century in Brera. The second one, in Isola, opened only a few years ago, when this neighborhood became more popular by both Milanese and tourists.
Besides ice cream, Toldo also offers coffee and sweet pastries. Meaning that you can go here all day. In the (early) morning one enjoys a breakfast with a cappuccino and a delicious homemade brioche. Later in the morning or half-way the afternoon it is the place to have a piece of cake or a coppetta di gelato. Like the gelateria named above, also Toldo is specialised in ice cream made with chocolate flavors in combination with different ingredients.
In the gelateria in Isola you can choose from 10 flavors. It might sound limited, but it means that you always eat fresh ice cream as the turnover is quick. What are you waiting for?
Toldo
Via Pietro Borsieri 7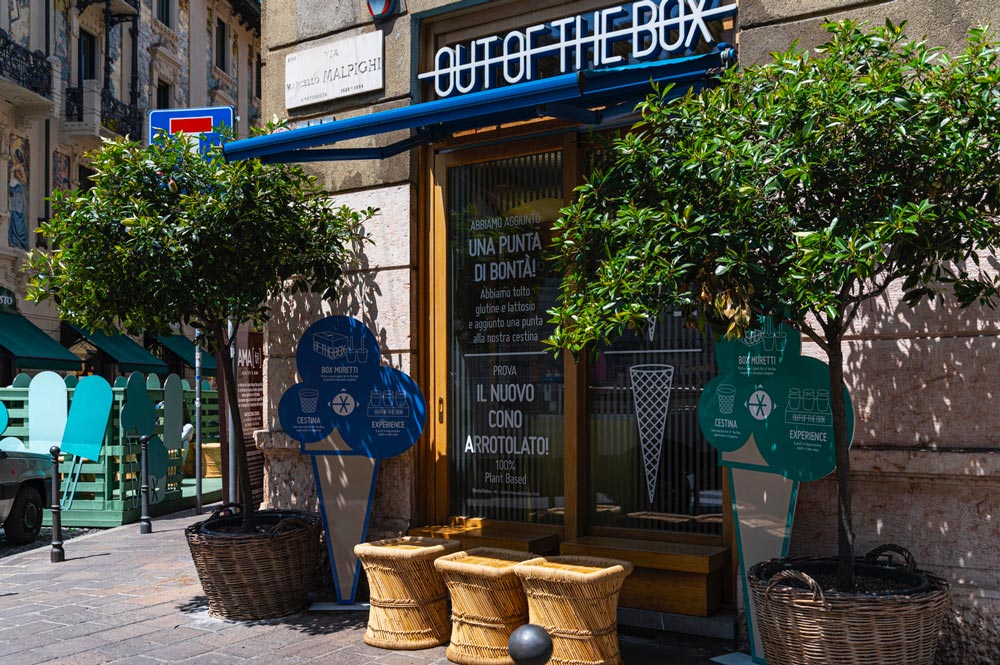 In the Porta Venezia district? Go out-of-the-box!
In the upcoming area of Porta Venezia, next to the beautiful Liberty facade of Casa Galimberti, the ice cream store Out-of-the-box. Also this one is relatively new. The laboratorio, where the ice cream is prepared, is visible to the clients so that everyone can enjoy the production process.
The flavors change here every day and are very original. Have you ever tried an ice cream made from raw chocolate? Or icecream with salted cshews? If you can't make a choice, then order a 'box' with six small containers of ice cream. This is also very useful for take-away ice cream and can be enjoyed while walking.
If you want to take a souvenir from this ice cream experience, then don't hesitate to take some of the postcards that do not only explain the flavors but also the ingredients that have been used to make this cold delicacy. It might inspire you for some home-cooking….
Via Malpighi 7
https://www.facebook.com/outofthebox.gelato
Stroll along the Navigli with an ice cream from Latteneve
The area around the Naviglio Grande is one of the most popular areas in the centre of Milan. It is just a 10 minutes walk from the endpoint of our bike tours through Milan and definitely worth a visit! Along the canal are cool boutiques and lot's of bars and restaurants. However, if you want to eat a good ice cream you need to move-away a little from the water. To be more precise, you have to go to Via Vigevano. Don't worry, it is close-by and it will take you only a few minutes to get back to the Naviglio area.
Latteneve produces ice cream with original and qualitative products, preferably organic and local. The flavors are made for example with single-origin chocolate, liquorice from Calabria and PGI hazelnuts from Piemonte. Order a cono or coppetta, ask for it to be filled with the flavors of your choice and enjoy it while strolling along the Naviglio.
Latteneve
Via Vigevano 27
https://www.facebook.com/Gelateria-Latteneve-783293678378154