What to do in Milan in one day? How can you make a stopover in Milan an unforgettable mini-vacation?
One day is not enough for visiting any city but with the right tips you will get the most and the best out of Milan also in a very short time and it will seem to you that you had spent much more time here.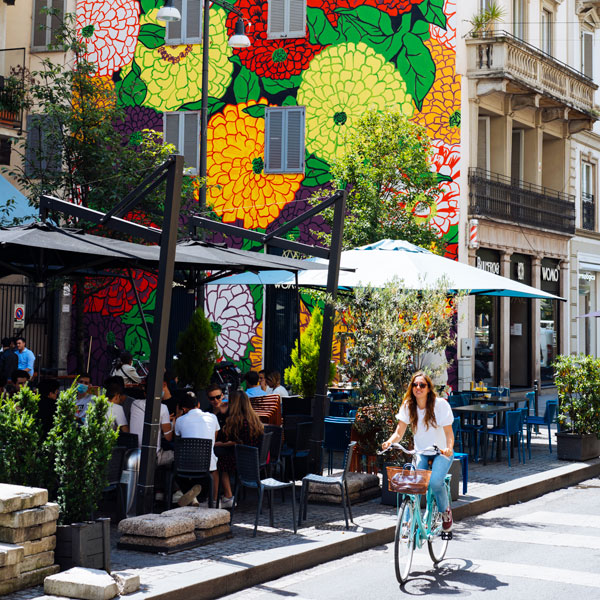 Where to start to enjoy one day in Milan
Nothing is better to quickly get to know a city than to hop on one of our bikes for a guided bike tour.
The bike tour will give you a complete overview of all the main neighbourhoods of the city so that you can enjoy one day in Milan: Brera district, Porta Nuova/Garibaldi district, Sempione district, Sant'Ambrogio district and Ticinese district. You will learn a lot about the history, culture and lifestyle of the city while having fun in great company. Or you can also book a private tour to better tailor-made your experience in terms of timing and route and have dedicated attention from the local guide.
Milan in a day: lunch
Ending the tour in the Ticinese district, you will have plenty of opportunities to taste amazing food and savour the authentic and picturesque atmosphere of the nearby area of the Navigli Canals.
So here's the tip to have a great lunch for your visit of Milan in a day: from our shop, you can head to Darsena, which is within a walking distance, where you can have a quick lunch eating street food at the market or sitting at one of the cafes.
But you can also head directly to the Naviglio Grande, one of the three main canals still open in Milan.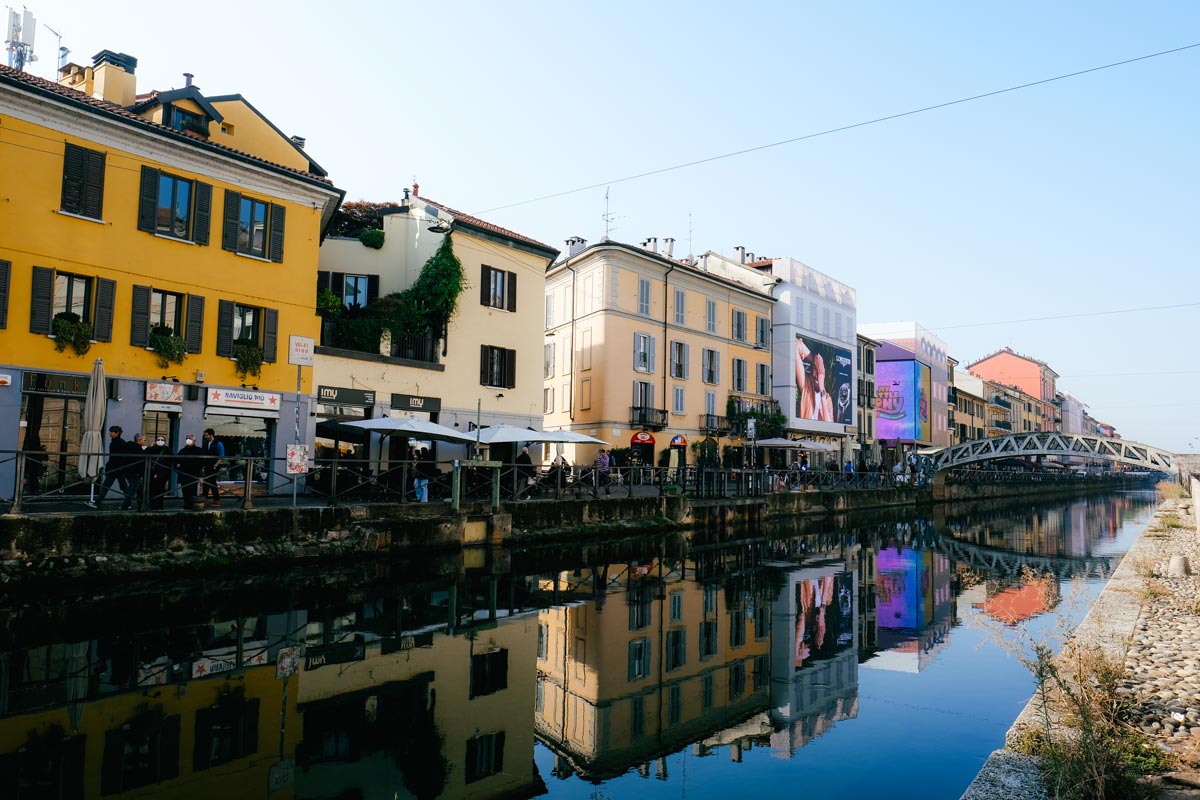 A lot of people don't know that Milan had a port and still has canals. The Darsena was actually the city port, actually one of the most important in Italy and the main getaway for people and goods that were transported in and out of the city on barges through the canals.
You can also plan to come back in the evening if you like the area knowing that, if Piazza del Duomo is the centre of daily life, the Naviglio Grande is a place for the evening and nightlife with also very cocktail bars like Rita, just to mention on of them.
During the day you will better appreciate the beauty of old alleys such as the "Vicolo dei Lavandai" with a narrow stream of water in which the inhabitants used to wash their clothes.
More info on our bike tour in Milan.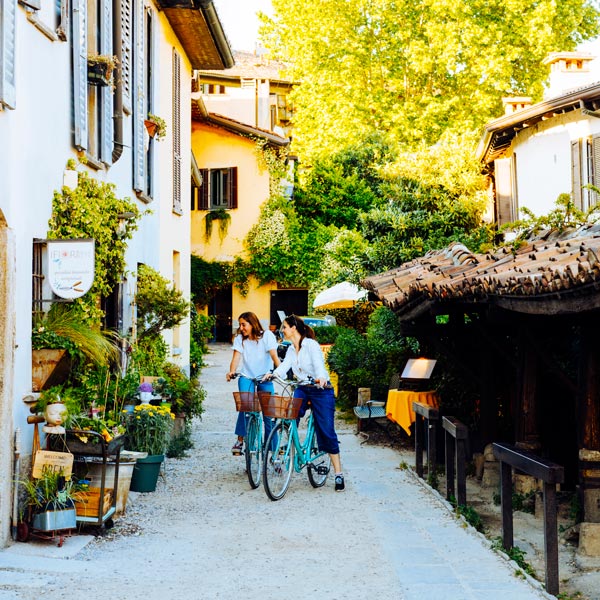 What to do in Milan in one day: afternoon
After lunch, head to Corso Magenta for discovering the Magenta district.
This district placed in the historic centre of Milan, with its elegant, quiet and reserved mood, shields some of the most amazing treasures of the city. Some are very well known, others are much more secret and equally rich in beauty and charm.
Things to do in Milan in one day: Santa Maria delle Grazie and the Last Supper, Piazza Santa Maria delle Grazie
If you're looking for things to do in Milan in one day for sure one unmissable attraction is Santa Maria delle Grazie and the Last Supper by the genius Leonardo Vinci, which do not need any introductions because, together with the Duomo, they are the best known and most visited attractions for travellers from all over the world! So it is very important to book a lot in advance. Here is the link to the online ticket shop: Cenacolo Vinciano.
Things to do in Milan in one day: Casa degli Atellani and Leonardo's Vineyard, Corso Magenta 65.
Always about the things to do in Milan in one day consider that a few steps away from the Basilica of Santa Maria Delle Grazie, behind the Renaissance residence of the Atellani, there was a vineyard that Ludovico il Moro donated to Leonardo da Vinci in 1498, while he was still working on the Last Supper, as a gesture of gratitude for 'the various and admirable works he performed for the duke'
In 2018 for the first time, it was possible to harvest the reborn Leonardo's Vineyard thanks to a scientific project curated by the University of Milan. La Malvasia di Milano, Year I – was bottled in exclusive 330 Decanters inspired by the drawing by Leonardo da Vinci present in folio 12.690 of the Windsor Codex manuscript.
What to see in Milan in one day: Church of San Maurizio at the Maggiore Monastery, Corso Magenta 15.
If you are wondering what to see in Milan in one day you have to enter here for the first time to remain speechless. Because it is impossible to imagine the spectacle behind that anonymous facade of Corso Magenta. The show is given above all by the decoration. Paintings, stuccos, and frescoes cover every space, both in the public part and in the Nuns' Choir. The main artist here is Bernardino Luini, who worked here with his school from 1522 to 1529. Defined by many as 'the Sistine Chapel of Milan' it is a real charm not to be missed beyond any comparison.
The main points of interest in the Magenta district are all within walking distance. To move to other districts, our advice is always to go by bike but we also recommend the experience of the Milanese tram, the protagonist in Corso Magenta and an icon of mobility and Milanese elegance.
Last but not least, do not leave the Magenta district before stopping at the Bar Magenta with its centenarian history and its legendary sandwiches and beers.
Now you can head to another famous district but before you arrive in CityLife, if in springtime don't miss Piazza Tommaseo one of the most beautiful corners of Milan in bloom. The pink magnolias are driving crazy Milanese and travellers.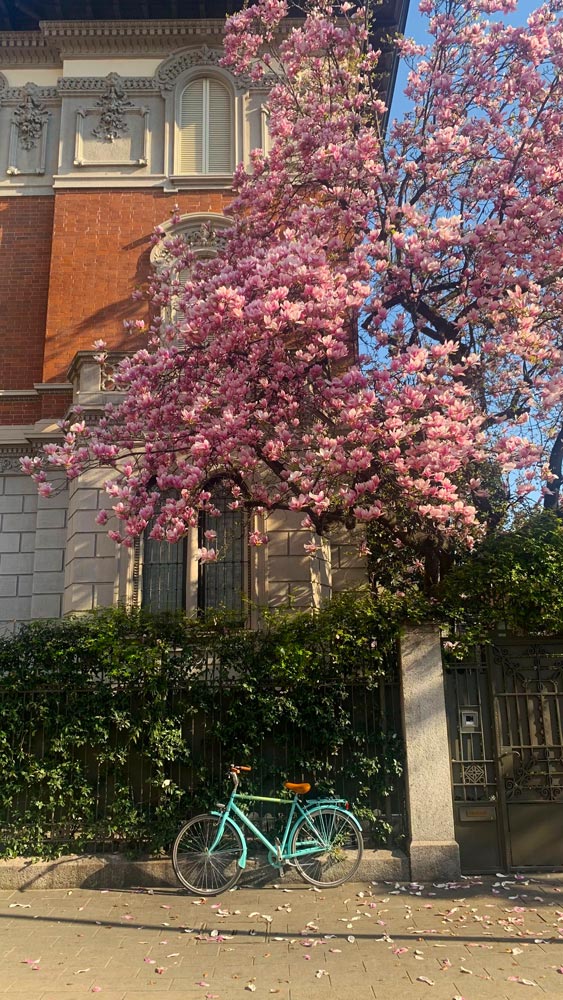 Places to visit in Milan in 1 day: CityLife and the House of Cards
You can't leave this city without doing some shopping so, regarding the places to visit in Milan in 1 day, you can't miss CityLife. So be in the mood for shopping and visit a new area.
CityLife is the former historic hub of Milan's fairgrounds and it is home to residential and business complexes designed by archistars like Zaha Hadid, Arata Isozaki and Daniel Libeskind. The three skyscrapers have very funny nicknames 'The Straight One', 'The Twisted One', 'The Curved One'.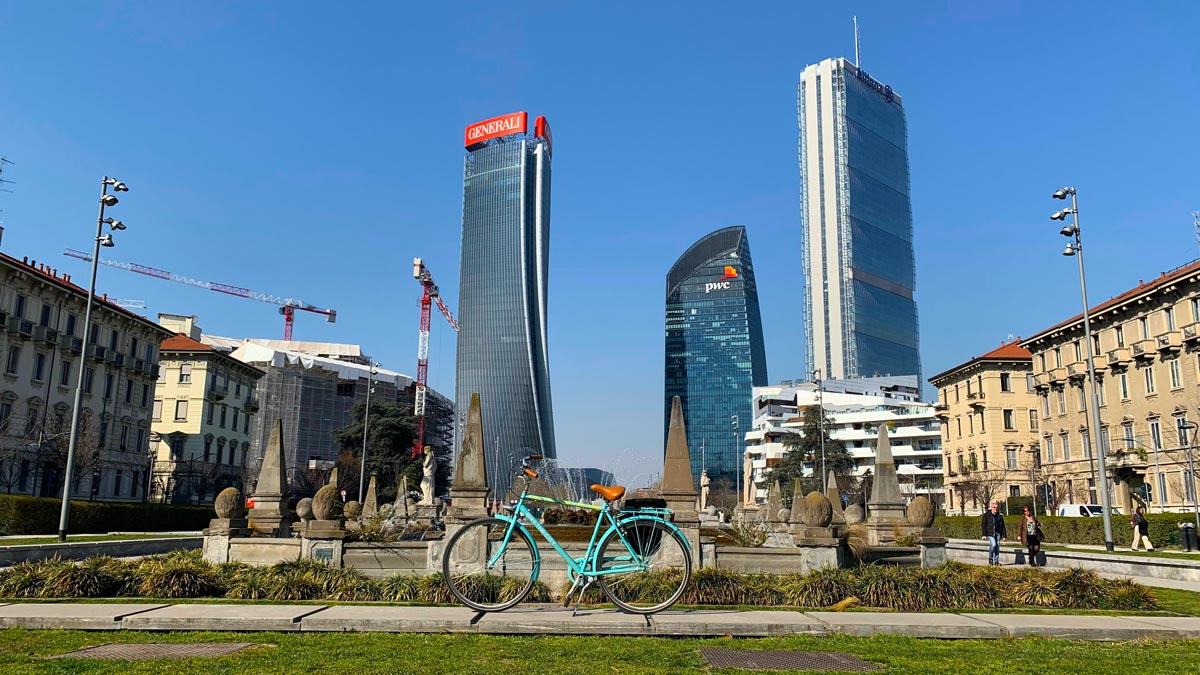 You can enjoy the awarded park, enriched with a lot of public art installations or you can reach the elegant shopping mall and have also an amazing gelato at CioccolatiItaliani a very good gelateria in the food hall on the first floor.
Don't miss also the Milanese 'House of Cards' by Rinaldo Denti and Elio Fiorucci, Castello Pozzi, a prestigious Villa built in 1929 and the house of a former fashion designer. During the evening, the cards with baroque designs light up thanks to fun neon games which make the view even more exciting.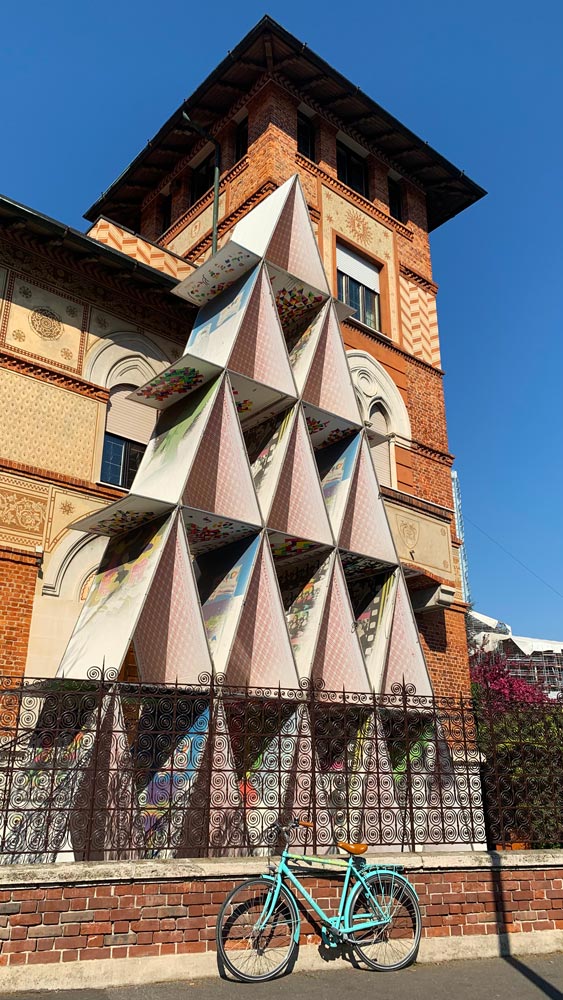 1 day in Milan: dinner and night
To complete your 1 day in Milan you can choose between an elegant restaurant in Brera or a traditional trattoria in the Isola district or an apericena (aperitif + dinner) in the crowded and fancy area of Corso Garibaldi.
You will go back to your room not having visited just one but a multitude of cities because Milan is so polyhedric and vibrant that your day in Milan, I bet, will be an appetizer for a much longer stay next time!
More info on our bike tour in Milan.
Read also: What to do in Milan in 2 days