There is no doubt that William Shakespeare made Verona worldwide famous. And we obviously acknowledge that many people from around the globe reach this location to visit Juliet's house. But this city has much more to offer. Read below to discover the top things to do in Verona in two days!
More info on our bike tour in Verona.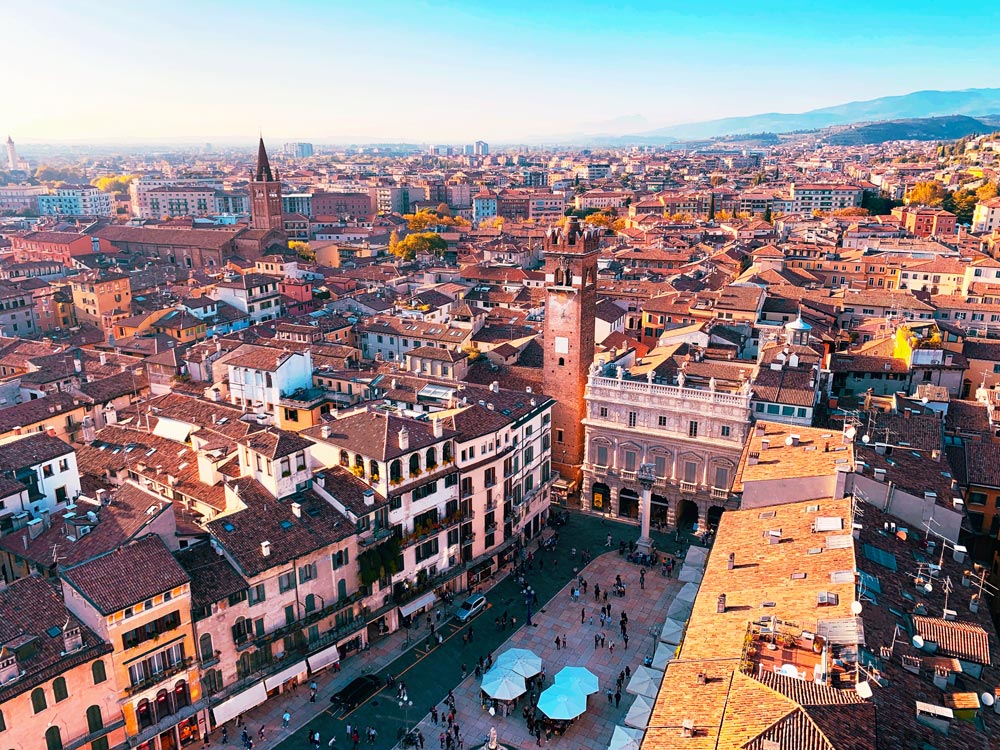 Things to do in Verona in two days, the highlights
Book our bike tour and enjoy the view of Verona most important monuments
Discover San Zeno's church
Visit Castelvecchio and enjoy the works of art it hosts
Take breathtaking pictures from Lamberti tower
Learn more about Verona's origin by visiting the Roman Theatre
Let the San Giovanni district charm you
Walk through Giardino Giusti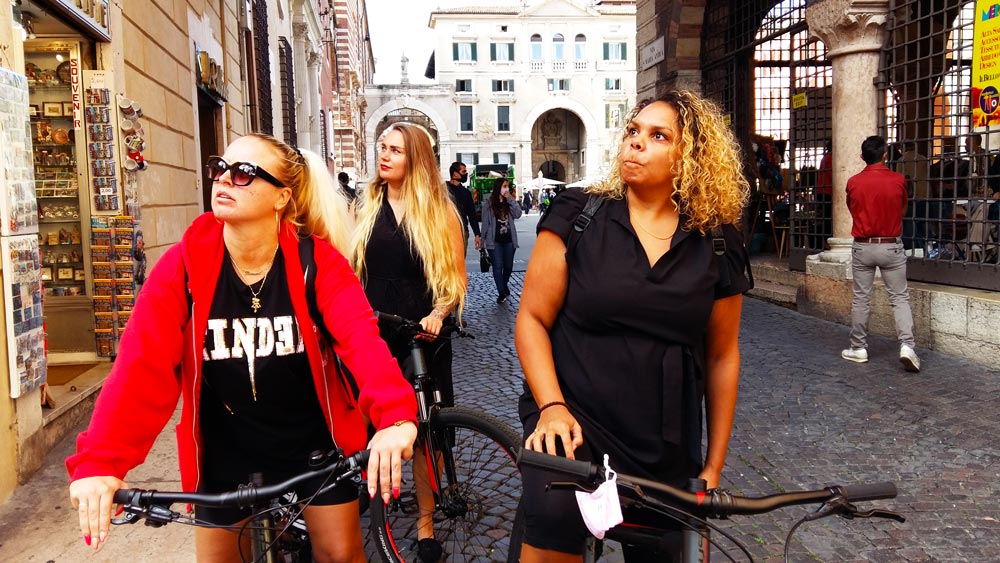 Things to do in Verona in two days: from the bike tour to the disco
Here is a list of the activities and places you can't miss on your first day.
The bike tour is a relaxing and fun way to experience the city at your pace. We'll start from piazza Bra, where you'll be surprised by the astonishing Roman Arena. Then, we will reach the most important places of the city like Juliet's house, Piazza dei signori, the Duomo, and Ponte Scagliere.
Time to eat and restore energies at Trattoria ai Piloti. If you are not that hungry, ask for a "cicchetto", you'll love it! As an alternative, you can go to piazza Corrubbio, where you will find many bakeries, pubs, and bars.
Get charmed by San Zeno's church. People who love art can't miss it for two reasons: first, this church represents the apex of the Romanesque style in Italy. Second, it retains several XII and XIII century frescoes cycles and Andrea Mantegna's triptych depicting the Virgin.
Visit Castelvecchio, the building with a unique shape. This structure, a fortification built in the XIII century, is characterized by battlements in its walls and towers. The facade is not original, though. The castle, in fact, was damaged during World War II and restored between the 50s and the 70s. Besides being an attractive architecture, Castelvecchio hosts Verona civic museums and includes a Pinacoteca, a sculpture section, and a library.
When you go to Piazza Delle Erbe, you'll be amazed by the beauty of Lamberti Tower, a medieval tower open to the public. What are you waiting for? Climb on top of it and take the best pictures to share with your friends.
If all these steps tired you out, you should sit and have a coffee and a pastry at Caffè Mazzanti. It will make you feel reborn!
Did you get to Verona by car? Then you can have dinner at Piper restaurant, located in the Torricelle area. Besides being a restaurant, it is a disco which offers a different kind of music every night so you can match food and fun. As an alternative, you can eat at San Mattia farm, located in the same area.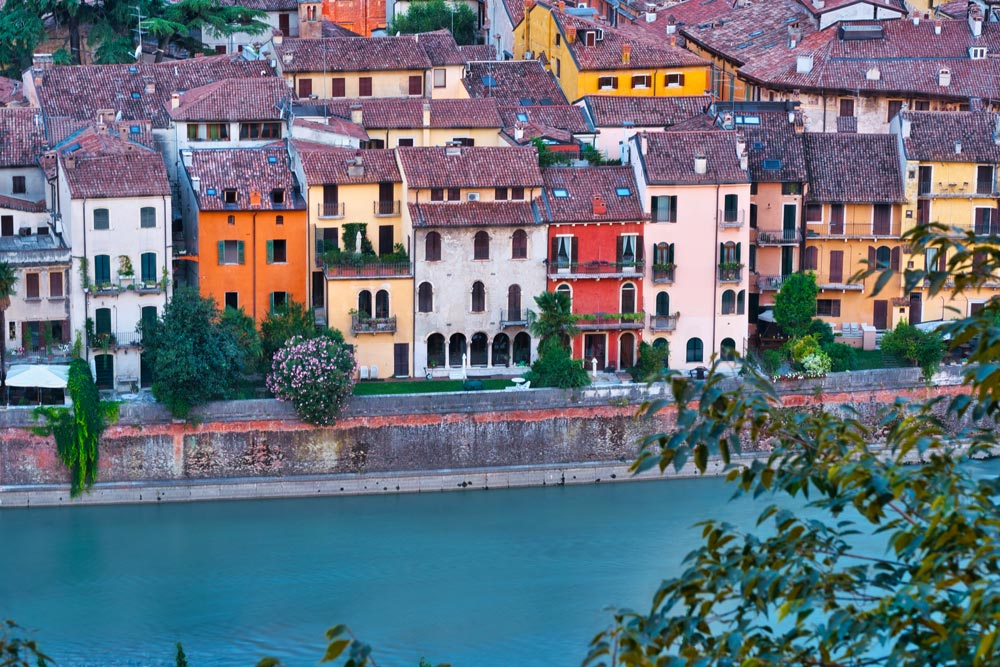 What to do in Verona: history along the river and a marvelous garden
Some of the best things to do in Verona are usually overlooked. Here are some examples of the most interesting ones.
Have an abundant original American breakfast. For a traditional salty one, you can choose Elk Bakery, located in via IV Novembre. If you prefer to have an Italian meal, you can have breakfast at Miozzi, located in via Diaz, or opt for Flego, the bar in via Stella.
The Roman theatre is one of the most ancient buildings in Verona. Unfortunately, after the Sacred Roman Empire fell, it was not preserved well  and it was covered with new houses. Plus, a church and a monastery was built over its ruins. Yet, in the late XIX century, the theatre was brought back to life, and now the theatre is widely used for plays and shows. Are you really into the Roman culture? Then you can't miss visiting the Archeological museum!
The district of San Giovanni is the most iconic in the city because you can find some early Christian and Lombard remains. In this area, there are many highlights, but we recommend you to visit San Giovanni in Valle church and Santa Maria in Organo's one.
Visiting a city needs the right amount of energy. To recharge your batteries, stop in piazza Isolo. There you can choose to eat at Cantonucci or to have a fast lunch at the Toasteria Italiana.
When you need to relax, nothing compares to nature: trees, flowers, fresh air, etc. If this is your jam, you should take a walk in the Giusti Garden, a place with more than four centuries of history. Why do we love it? Because this place was built on the model of the Boboli Gardens, a pretty uncommon thing at the time. It consists of two parts. The first is decorated with statues of Greek and Roman gods and regular hedges. The second, instead, is a grove that features an artificial cave. While you're here, you can also visit Palazzo Giusti, the representative palace of the family.
At the end of the day, there's nothing like a typical dinner. Among the places we recommend, there is the Osteria Verona Antica, which has friendly service. If, on the other hand, you prefer a more chic and fashionable place, you can opt for the Bottega dei Vini in via Scudo di Francia.
Last, you should go to Piazza delle Erbe to grab a drink and relax.
With our list about what to do in Verona, we bet you are going to have the holiday of your life! Enjoy!
More info on our bike tour in Verona.
Read also: Things to do in Verona for couples.