Hi I'm Jorik, 17 years-old, and I am taking you with me in my experience in Milan. I will give you tips, which may be interesting for you as a teenager. Besides the city centre, I think there are some beautiful places in Milan to discover. Milan is a city full of hidden treasures. Every district has another atmosphere which make Milan one big city out of different smaller ones. I will just give you my experience of it!
At first I would recommend doing a Milan bike tour at BikeTheCity, since it gives a good overview of the city. This is what I did too. After doing the tour I wanted to discover some parts of the city extra, and I know where I still really wanted to go to.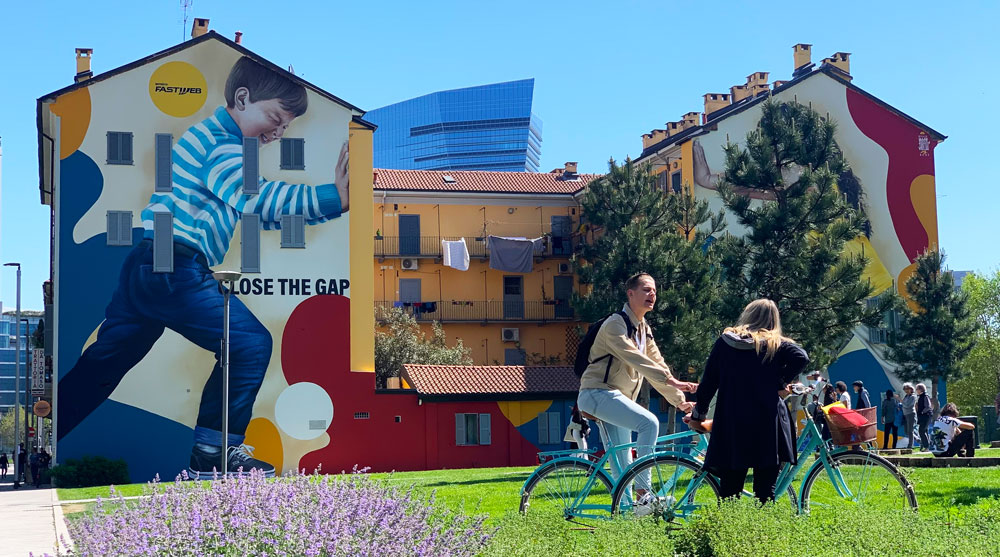 What to do in Milan as a teenager: discover the CityLife district
CityLife is a residential, commercial and business district situated in a short distance from the old city centre. Within the district, you can really see the differences between the older parts of the city and the newer parts. CityLife was designed by famous architects like Zaha Hadid, Arata Isozaki and Daniel Libeskind. You can easily come here by using the purple metro line (M5) or the red metro line (M1).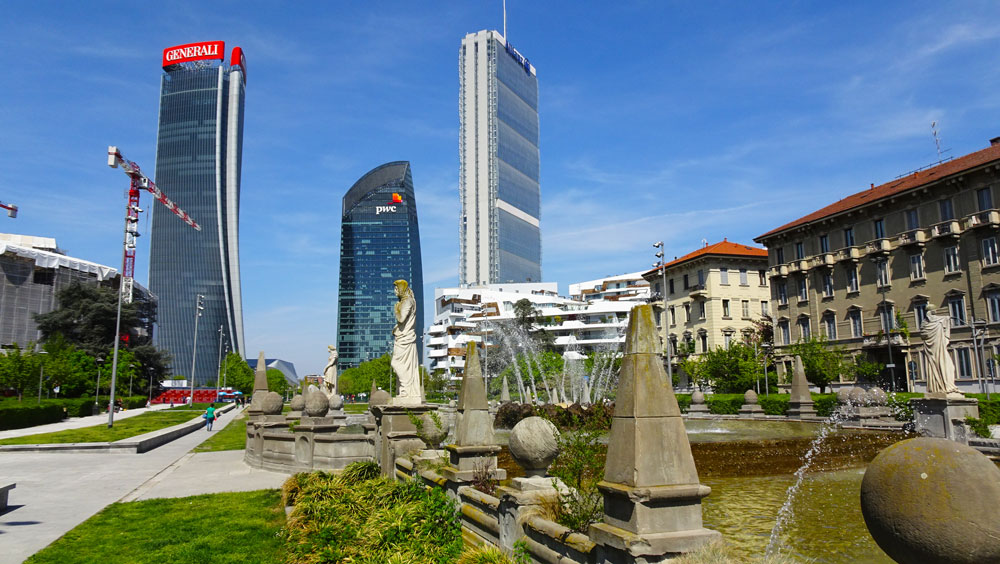 Parco Tre Torri is a beautiful park just under the three skyscrapers which mark this area. Talking about these skyscrapers, did you know these actually have nicknames? There is the 'The Straight One', 'The Twisted One' and 'The Curved One'. Now you can figure out which name belongs to which building. Back to Parco Tre Torri, this is a perfect park to hang out, and chill a little. Imagine yourself sitting here in the grass, eating a gelato with the sun on your skin. Sounds good, right?
After enjoying Parco Tre Torri, I would definitely recommend going to the 'House of Cards'. Castello Pozzi, which is the real name of the villa, is a larger-than-life house of a former fashion designer. You will be amazed by a huge house of cards that stands right in front of the front facade of the building. The large artwork is the work of Rinaldo Denti, the owner of the castle, and Elio Fiorucci, the well-known stylist. It is presented as a suggestive and colourful touch of art in the midst of the greyness of the city. At night the house of cards will be lit up by colourful neon lights.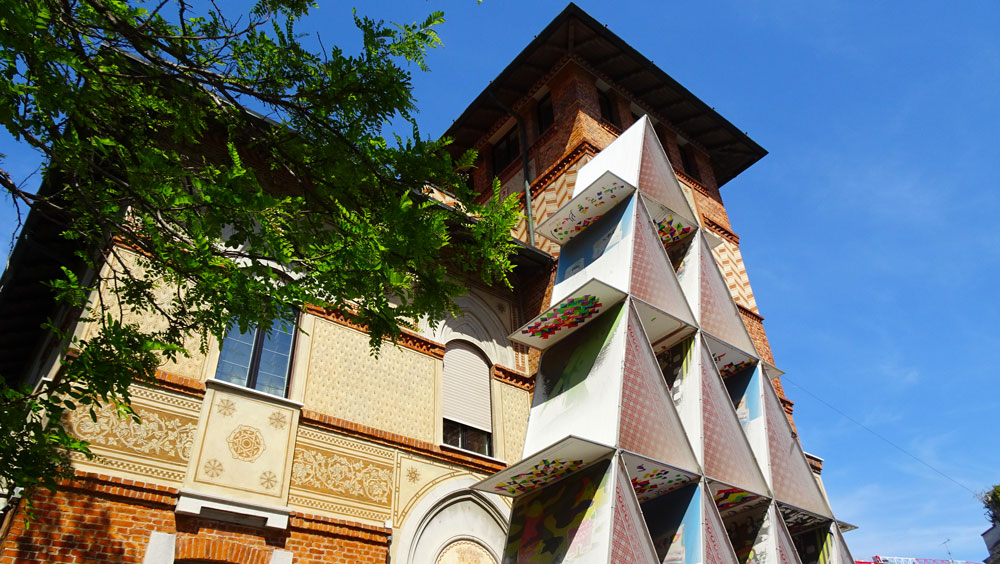 If you are a real shopper, CityLife is the place to be for you. The CityLife Shopping District is partly indoors, which makes it also a good option to go to when the weather isn't amazing. In the CityLife Shopping District, you can find shops like Sephora, Snipes and Adidas. Also, there are plenty of (take-away) restaurants, so you can definitely spend some time here!
What to do in Milan as a teenager: shopping
Besides the big chain stores, there are plenty of shops in Milan which are very original. In this part of the blog I will give you some shops you may like.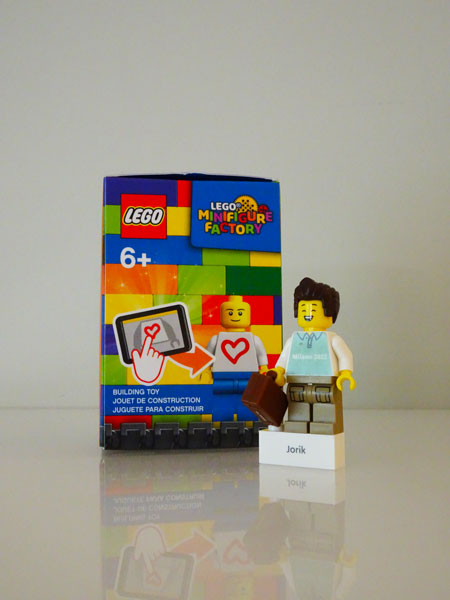 Lego® store – San Bablia
Right next to the station San Bablia at the end of Corso Vittorio Emanuele II, you can find the Lego® store. Lego is a real childhood sentiment for me. When I was little, I always used to play with Lego. This made me go to the Lego® store. The store had every kind of Lego you can imagine. Lego for adults but also for smaller kids. Within the shop you can make yourself as a Lego doll, which I thought was really fun. I chose to put Milano 2022 on my t-shirt. I think this is a really original souvenir you can get from Milano!
Eataly – Porta Garibaldi
Eataly is a grocery store which sells all kinds of Italian products. But it's not a normal grocery store you would think of. As they say on the website, "the store is a forum where to eat, buy and learn". Normally I would think, why should I go to a grocery store while I'm on a city trip? But believe me, this store is different. You can buy real Italian, pastas, focaccias, cannoli, and so on. I am definitely taking this home, so I can still enjoy the taste of Italy when I'm at home.
Vintage shopping
Milan is one of the best cities in the world to do vintage shopping. The city has plenty of thrift shops, like Bivio Milano or Cavalli e Nastri Mora. Within these thrift shops you can score beautiful (designer) items for good prices. And say it yourself, who doesn't like that. The smaller boutiques, in which these stores are located, are beautifully decorated. And in most of them you not only find clothes, but also vintage home decorations.
What to do in Milan as a teenager: getting the best gelato in Milan
You can't leave Italy without eating a gelato. I tasted lots of different ice creams in the city. In this part I will tell you, which are approved by me: these are the best gelaterie in Milan.
Grom – Il Gelato come una volta
Grom is a shop which has plenty of locations throughout the city. They have a wide assortment of flavours. My personal favourites at Grom are tiramisu and stracciatella.
Venchi Cioccolato e Gelato
Venchi is an Italian food company which is specialised in the production and sale of chocolate. My favourite flavour at Venchi was Cioccolato (chocolate). What I like about Venchi is that you can have extra melted chocolate on your cone. They have a chocolate tap constantly giving chocolate, this is a dream right.
Amorino
At Amorino you can get your gelato in the most beautiful roses of ice cream. I personally loved the food flavours at Amorino. Also these colours look just very nice in your rose.
What to do in Milan as a teenager: restaurants
Osteria Da Fortunata
Brera is one of my favourite areas in the city to eat. Originally, Brera was a so-called artists' quarter in Milan. Osteria Da Fortunata on Via Fiori Chiari, which is a really idyllic street in the area. According to me, Osteria Da Fortunata has one of the best pastas and tiramisu in the city! Something fun to mention too is that the pasta is made within the restaurant. While eating, you can see your pasta being made. It is good to mention that at dinner there is a queue for the restaurant, but I think it is totally worth it!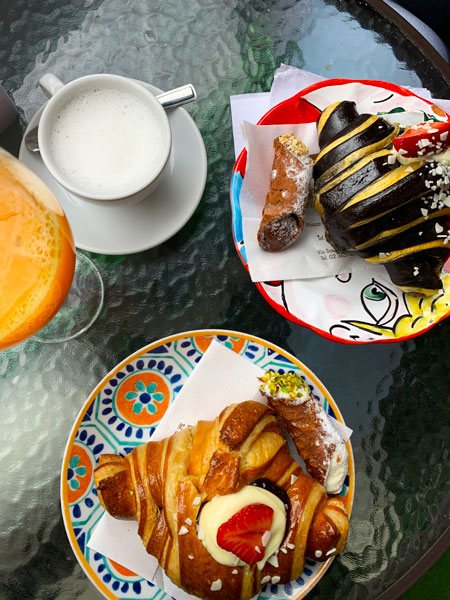 Carlsberg Øl
This restaurant is one of the cutest restaurants I've been to in my life. The atmosphere is just so nice. For a good price, you can eat really tasty food here. Also, for an aperitivo, this is a perfect spot. With a nice terrace and good food, I think you can enjoy yourself until late in the evening.
Spontini
If you are a thick pizza lover, you should definetly go here! This (take-away) restaurant has one of the best pizzas in the city. Since the restaurant is a little crowded, I recommend taking your pizza in a box and eating it on one of the beautiful squares Milan has!!
Aroma Napoletano
For the best breakfast in Milan, you need to be here. This place sells the best filled croissants ever! The colours are already amazing, but after tasting them, you will be amazed even more. And that for only 2 euros. Normally there is a queue for the store, but again this is definitely worth it!
Starbucks Reserve Roastery
This is the place to be if you are a Starbucks lover. The Starbucks Reserve Roastery is an immersive coffee experience that celebrates the company's heritage and serves as a tribute to the roasting and craft of coffee. The store has everything you can imagine on Starbucks merchandise. But also their best coffees and sweets are served here. It's located on Via Cordusio which is the easiest to go by foot from Piazza del Duomo.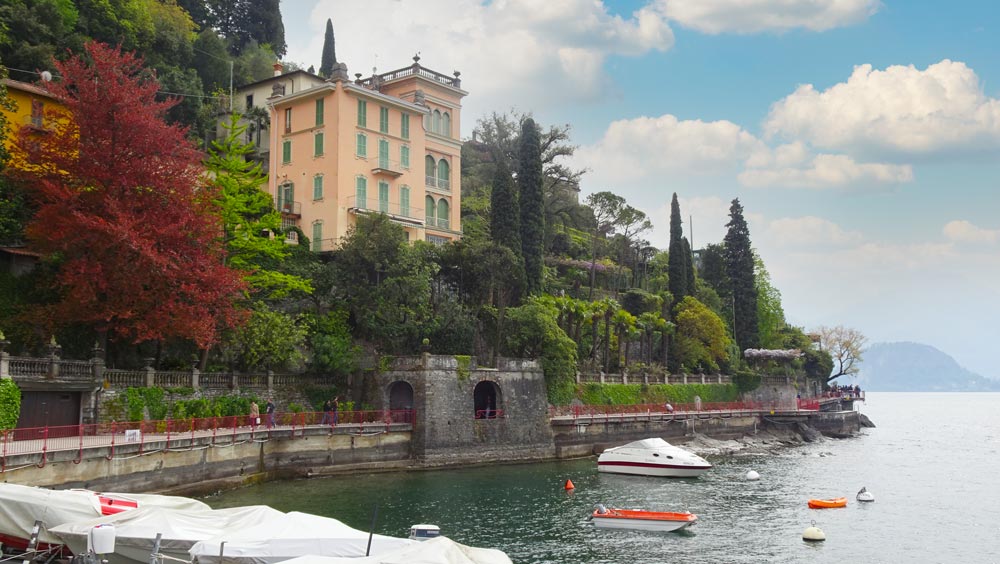 Lake Como on ferry boat
If you have enough time, I definetly recommend you to go to Lake Como on ferry boat or train. Instead of going to the city Como, I've been to the smaller towns of Varenna and Bellagio. Every hour there goes a train from Milano Centrale to Varenna-Esino. A return only costs around 13 euros. In Varenna you should definetly go to Villa Monastero. This was litteraly one of the most beautiful places I have ever been. From Varenna you can take the ferry boat to Bellagio. Bellagio is a town with some more shops, so you can do good souvenirs shopping here! Keep in mind it may be a little busy here, since this is a place where many tourists come. But the views here are amazing, so again this is a good recommendation!
What to do in Milan as a teenager: museums in the city
If you are more of an art and museum lover, this part is for you! I will tell you some museums which may be interesting for you.
Museo del Novecento
'Museo del Novecento' actually means: the 20th century museum. Within this museum you can find art of the 20th century. There are for example some Picasso's, but also Piet Mondrian. It displays about 400 works and most of them are Italian. The museum is housed in Palazzo dell'Arengario. In the highest part of the museum, you have a beautiful view over Piazza del Duomo!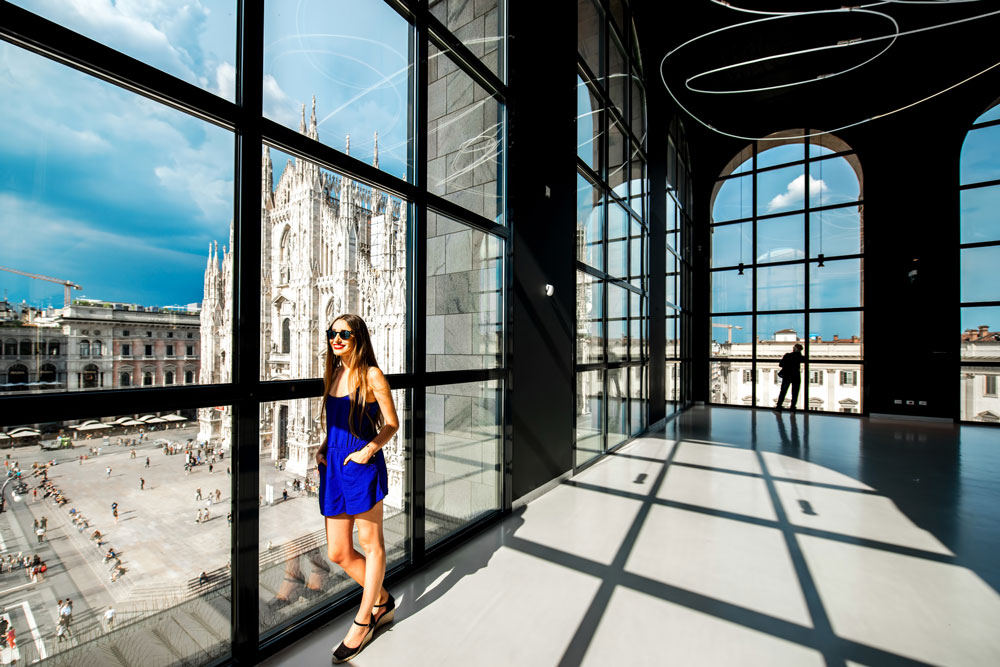 Civic Aquarium of Milan
This museum is an aquarium, but not just an aquarium; it is the third oldest aquarium in Europe! It was built on the occasion of Milan International in 1906. The Civic Aquarium is the only
surviving building from the event. The museum takes you through the watercyclus, from sea water to rain. Also, it shows the ecosystems of sea coasts, lakes and rivers.
Leonardo da Vinci's Vineyard
The Vineyard was a gift from the Duke of Milan Ludovico Maria Sforza to Leonardo da Vinci for all the work he had done. It was given in 1498 while Da Vinci was still working on the Last Supper, which is on the other side of Via Magenta. The vineyard has a beautiful, romantic atmosphere. Scientists actually discovered by DNA research which exact type of grapes were cultivated in the vineyard. It was the Malvasia di Candia Aromatica, which they replanted in the yard. On September 12th 2018, the grapes were harvested for the very first time.
Things to do in Milan as a teenager: visiting Brera
Brera is one of my favourite areas in the city. The idyllic streets and the best restaurants are located in this part of the city. And not to forget the Palazzo Brera, this beautiful building is home to some prestigious institutions.
The Orto Botanico di Brera is a Botanical garden which you can reach by walking through the corridors of Palazzo Brera. The Orto Botanico has beautiful plants, which may be even more beautiful when they are in full bloom. You can't really see from the streets that there is a garden like this. This makes the botanical garden of Brera a real hidden treasure of the city.
I would say you go to Brera in the late afternoon. You can have an aperitivo or even apericena (an aperitivo and dinner together). The little boutiques, restaurants and small markets make Brera a beautiful area to go to. So put this on your list. This is something which needs to be on your Milan itinerary!
Things to do in Milan as a teenager: discover the hidden spots of the city
Il Dito
In front of the Palazzo Mezzanotte, you can find Il Dito. Il Dito is a statue of a middle finger and it is the work of Maurizio Cattelan. It receives the name of L.O.V.E., but Italians decided to call it Il Dito. It was Inaugurated in September 2010 as a temporary art installation. But the city liked it so much, that it's still there. The actual name is L.O.V.E., which stands for Libertà, Odio, Vendetta, Eternità (Freedom, Hate, Vengeance, Eternity in Italian). I think this is something you definetly want to see in the city!
Orto Botanico di Brera
As I already mentioned earlier, the Botanical Garden of Brera is a real hidden hotspot in the city. Within the garden it is so quiet, you can't even imagine you're in such a big city. The Orto Botanico di Brera is located behind Palazzo Brera and is operated by the University of Milan. The garden was established in 1774 by Abbot Fulgenzio Vitmam under the direction of the Empress Maria Theresa of Austria, transforming an existing Jesuit garden to serve students of medicine and pharmacology. The garden is open on weekdays without charge.
Villa Invernizzi
Did you know there actually are flamingo's in Milan? I also didn't know this. In the garden of Villa Invernizzi, in the middle of the city right behind Corso Venezia, you can find flamingos. The Villa is a private property of the Invernizzi's family, so it's not allowed to enter the garden. Still, it is possible to see the flamingos from the outside of the garden. Normally, you would see them bathing while standing on one leg.
Read also: What to do in Milan in one day