Brera is a picturesque neighbourhood in Milan where the laid-back, artistic style mixes with classic Italian history. It is impossible not to be charmed by the small artisan workshops in a labyrinth of streets dotted with well conserved period Milanese houses and buildings.
It is a fascinating paradox that allows this elegant quarter of one of the most sophisticated tourist destinations in the world to take its name from the word 'braida', meaning an uncultivated field of grass, similar to the term 'broad' in English.
Despite its humble beginnings, Brera is now hugely popular among tourists and locals alike as an area brimming with life, especially at night. The streets are filled with bars, restaurants, and shops that make Brera an idyllic place to explore at a leisurely pace.
More info on our bike tour in Milan.
Palazzo Brera
At the heart of Brera, we find the Palazzo Brera. Housed in what was once an Humiliati monastery and then a Jesuit college, it is a lively cultural hub, home to several highly regarded establishments. These institutions include the prestigious Accademia di Belle Arti (Fine Art Academy), the Pinacoteca (Brera Art Gallery), the Biblioteca Nazionale Braidense (Braidense National Library), the Istituto Lombardo Accademia di Scienze e Lettere, the Osservatorio Astronomico (Brera Observatory), and the Orto Botanico (botanical gardens).
This dynamic centre of culture is a grand palace, it became a state property in 1776 and it was the home of these many cultural, scientific and artistic institutions.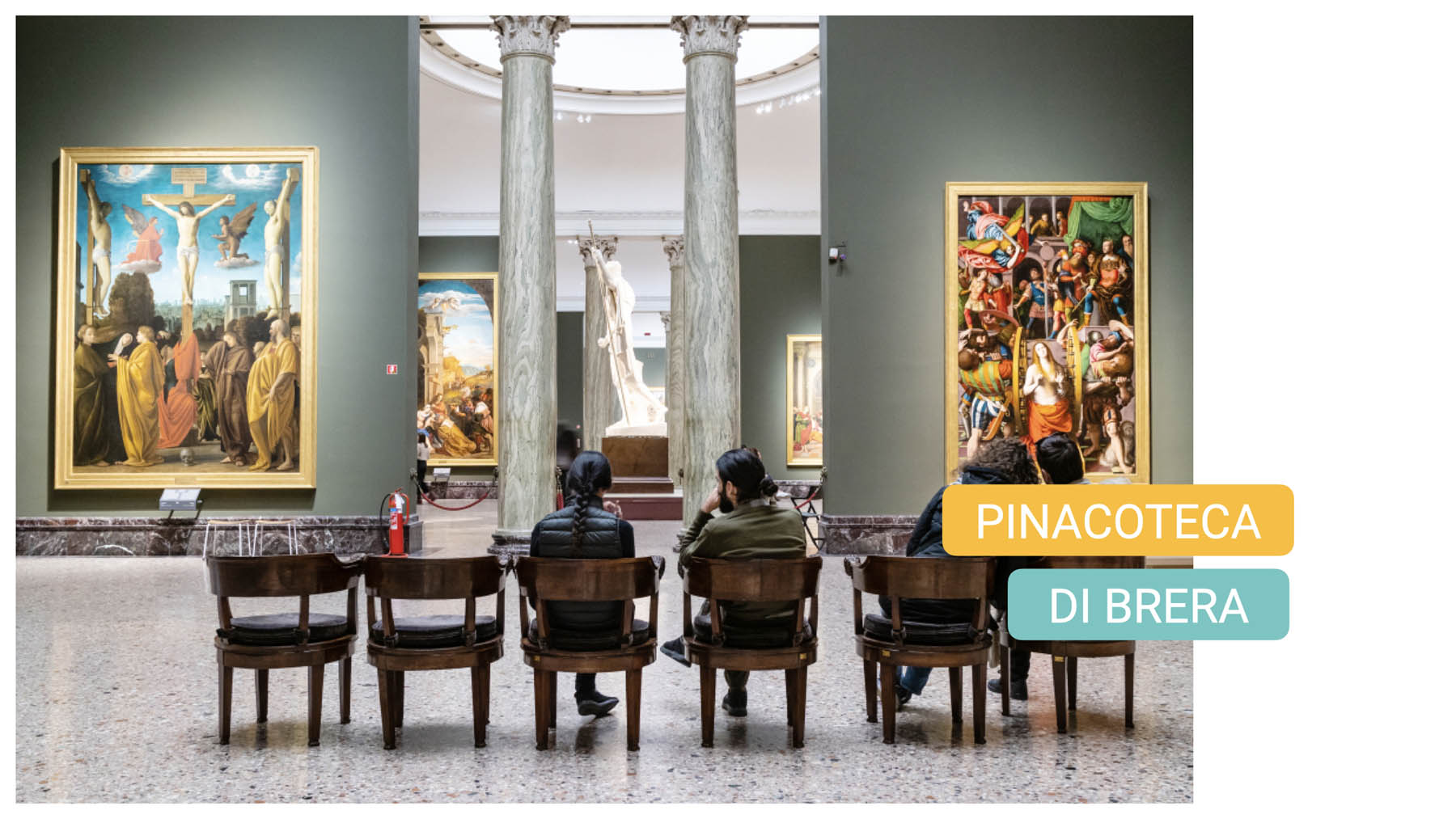 Pinacoteca
One of the main attractions of Brera in Milan is the Pinacoteca. This is the name given to the Brera Art Gallery, one of Italy's most important public art galleries with collections from Italian masters dating back to the Middle Age. Thanks in part to the Napoleonic-era movements of many European works of art, the Pinacoteca evolved to make Milan a cultural capital in Italy.
Beginning the collection with Raphael's Sposalizio (Marriage of the Virgin), the gallery now houses over 500 paintings and sculptures by the likes of Tintoretto, Caravaggio, Mantegna, Veronese, Rubens, van Dyck, and many more. Taking a peaceful stroll through the Pinacoteca allows visitors to admire the impressive masterpieces of renowned painters and artists throughout history.
No visit to the Pinacoteca would be complete without a meander through the glorious courtyard. Standing tall in the middle is a bronze statue of Napoleon as Mars the Peacemaker. It is a cast of the original marble structure by Antonio Canova which is currently housed in the home of the Duke of Wellington in London.
This piece was created by Francesco Righetti and his son in Rome in 1811 after being commissioned by Eugène de Beauharnais, the Viceroy of Italy. They used bronze from the cannons of Castel Sant'Angelo to produce the cast replica. The base, which was initially temporary, was replaced in 1864, with one made of granite and Carrara marble with bronze decorations. This statue marks a pivotal era in Italian history and is such a masterful work of art that it demands the attention of any who gaze upon it.
Curiously, Napoleon was not a fan of the original as he had wanted a statue to demonstrate his skills as a powerful strategist. Whereas Canova, in silent protest some say, produced the piece with a more artistic flair.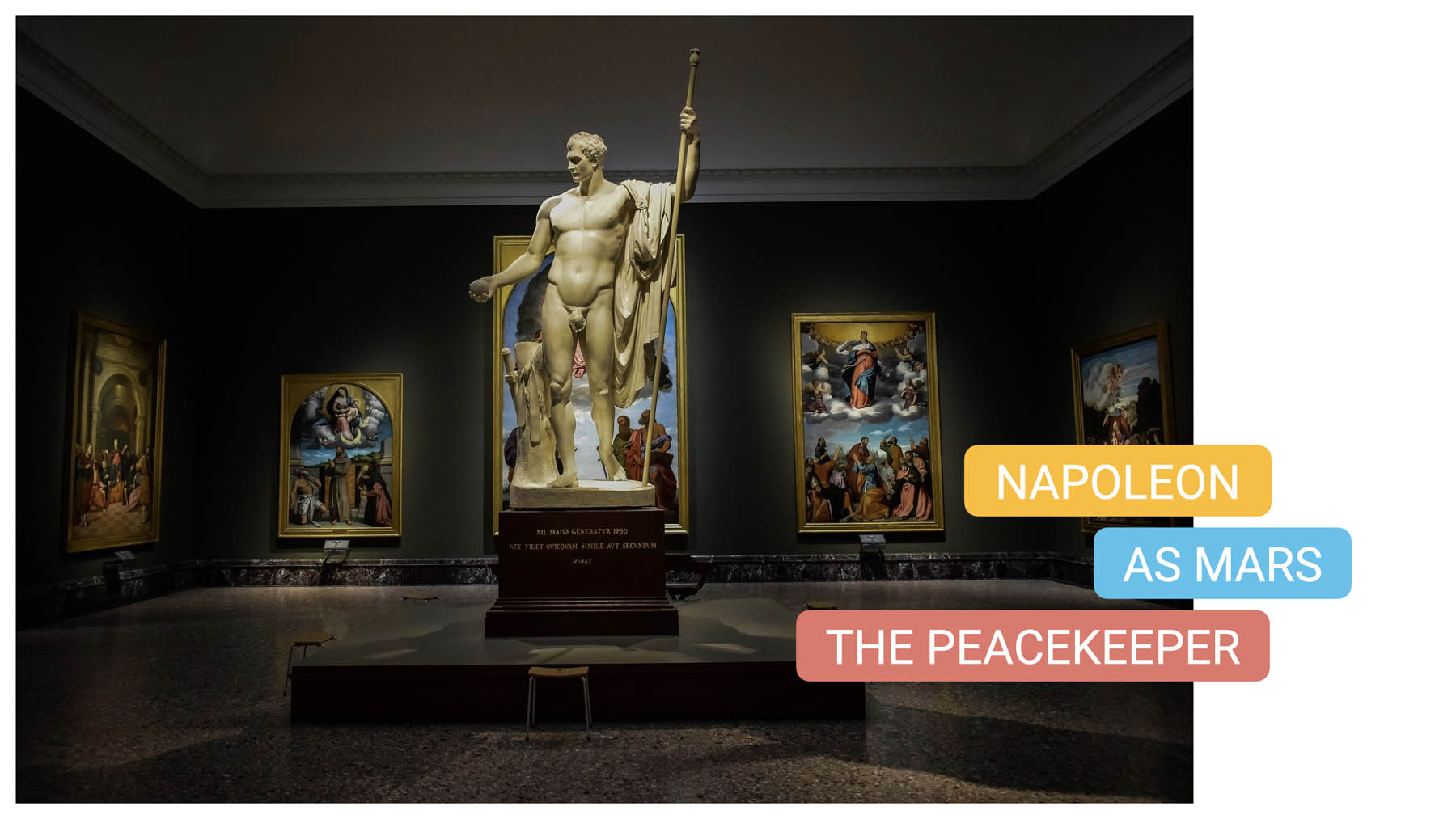 Montmartre in Milan
Often referred to as Milan's Montmartre, Brera is a romantic, bohemian district just next to the centre of the city. It is overflowing with bistro bars and beloved boutiques. With a reputation for being the artist's quarter, it comes as no shock that Brera is also full of quaint art galleries.
What does come as a pleasant surprise, however, is the large number of antique stores around. For a collector, Brera is paradise. Seek out top quality, vintage clothes, shoes, jewelry, and antiques as you tour this trendy corner of Milan. Visitors can also browse the bohemian street markets, stop for an evening aperitivo, and even have their fortunes told in the atmospheric streets of Brera.
More info on our bike tour in Milan.
Read also: Parco del Valentino.